corn

corn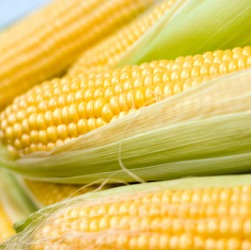 A few ears of corn.
noun
The definition of corn is a hard, seed like kernel of an American cereal plant, or a painful, hard and thick growth on the skin.

An example of corn is something people eat on Thanksgiving.
An example of a corn is a painful bump on the toe.
verb
Corn is defined as to form into tiny particles, to feed grain to animals, or to preserve foods with salt.

An example of corn is to bring grain out to the horses.
---
corn
Now Dial.

a tiny, hard particle, as of salt or sand; granule; grain
a small, hard seed or seedlike fruit, esp. a seed or grain of a cereal grass; kernel: now chiefly in compounds: peppercorn, barleycorn

a cultivated American cereal plant (Zea mays) of the grass family, with the grain borne on cobs enclosed in husks; maize
the ears or kernels of this cereal plant

Brit.

the seeds of all cereal grasses, as wheat, rye, barley, etc.; grain
any plant or plants producing grain

the leading cereal crop in a particular place, as wheat in England or oats in Scotland and Ireland

Informal

corn whiskey

Origin of corn

see corny (adjective)

Informal

ideas, humor, music, etc. regarded as old-fashioned, trite, banal, or sentimental
Origin of corn
Middle English and Old English from Indo-European base an unverified form
ger-,
to ripen, mature, grow old from source grain, churn, Classical Greek
ger?n,
old man
to form into granules
to preserve or pickle with salt granules or in brine
to feed grain to (animals)
a hard, thick, painful growth of skin, esp. on a toe, caused by pressure or friction
Origin of corn
Middle English and Old French
corne
from Classical Latin
cornu,
horn
---
corn
noun
a. Any of numerous cultivated forms of a widely grown, usually tall annual cereal grass (Zea mays) bearing grains or kernels on large ears.

b. The grains or kernels of this plant, used as food for humans and livestock or for the extraction of an edible oil or starch. Also called Indian corn . Also called maize .

An ear of this plant.
Chiefly British Any of various cereal plants or grains, especially the principal crop cultivated in a particular region, such as wheat in England or oats in Scotland.

a. A single grain of a cereal plant.

b. A seed or fruit of various other plants, such as a peppercorn.

Corn snow.
Informal Corn whiskey.
Slang Something considered trite, dated, melodramatic, or unduly sentimental.
verb
corned, corn·ing, corns
verb
transitive
To cause to form hard particles; granulate.

a. To season and preserve with granulated salt.

b. To preserve (beef, for example) in brine.

To feed (animals) with corn or grain.
verb
intransitive
To form hard particles; become grainy: "After the snow melts all day, it corns up at night for fine conditions" ( Hatfield MA Valley Advocate )
Origin of corn
Middle English
grain
from
Old English; see
g&rlowring;ə-no-
in Indo-European roots.
Word History:
Originally, the English word
corn
meant any rounded grain or seed whatsoever. In particular, it was used to refer to the kind of grain most often grown in a certain region. Thus in England, a
cornfield
is usually a field of wheat. The pretty blue
cornflower
is a Eurasian weed that originally plagued fields of wheat, not maize. In Scotland, on the other hand,
corn
can mean "oats," the grain that thrives best in Scotland's cool and damp climate. To modern North Americans, however,
corn
means
maize
—that is, the plant
Zea mays
and its seeds. When they first encountered
Zea mays
in the 16th century, the English borrowed the Spanish term for the grain,
maíz,
which is in turn a borrowing of Arawakan
mahiz
or
mahís.
Later, in the 17th century, another term for maize appears,
Indian corn
—the word
Indian
here meaning "native to the Americas." The American word
corn
in the specific meaning "maize" is simply a shortening of
Indian corn.
noun
A horny thickening of the skin, usually on or near a toe, resulting from pressure or friction. Also called clavus .
Origin of corn
Middle English
corne
from
Old French
horn
from
Latin
cornū
; see
ker-
1
in Indo-European roots.
---
corn

Noun
(usually uncountable, plural corns)
(uncountable) A cereal plant grown for its grain, specifically the main such plant grown in a given region, such as oats in parts of Scotland and Ireland, wheat or barley in England and Wales, and maize or sweetcorn in the Americas.
A small, hard particle.
Verb
(third-person singular simple present corns, present participle corning, simple past and past participle corned)
(US, Canada) To granulate; to form a substance into grains.

to corn gunpowder

(US, Canada) To preserve using coarse salt, e.g. corned beef
(US, Canada) To provide with corn (typically maize; or, in Scotland, oats) for feed.

Corn the horses.

To render intoxicated.

ale strong enough to corn one
Origin
From Middle English corn, from Old English corn, from Proto-Germanic *kurną, from Proto-Indo-European *ǵr̥h₂nóm ("grain; worn-down"), neuter participle of Proto-Indo-European *ǵer- ("to wear down"), or a substantivized form of *ǵr̥h₂-nós ("matured, grown old"), from *ǵerh₂- ("grow old, mature"). Cognate with Dutch koren, Low German Koorn, German Korn, Danish/Norwegian/Swedish korn; see also Russian зерно (zerno), Czech zrno, Latin grānum, Lithuanian žirnis, Persian خرمن (xarman), and English grain.
Noun
(plural corns)
A type of callus, usually on the feet or hands.
Origin
From Old French corn (modern French cor).
Noun
(uncountable)
(US, Canada) Something (e.g. acting, humour, music, or writing) which is deemed old-fashioned or intended to induce emotion.
Origin
This use was first used in 1932, as corny, something appealing to country folk.
Noun
(uncountable)
(uncountable) short for corn snow. A type of granular snow formed by repeated melting and re-freezing, often in mountain spring conditions.
Suffix
having (such) horns; one having (such) horns
---
corn - Investment & Finance Definition
An agricultural product that is grown throughout the Midwestern United States, as well as other areas. Futures and options on corn have been traded on the Chicago Board of Trade since 1877. Corn also is traded on other futures exchanges throughout the world. Monthly crop reports produced by the U.S. Department of Agriculture are closely watched by corn traders because they give information about expected supply, which directly affects prices.
---