carousel

car·ou·sel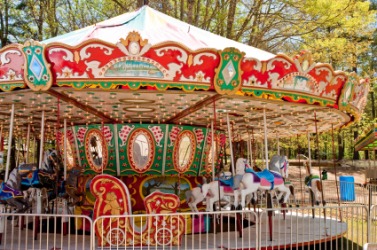 A carousel in a park.
noun
The definition of a carousel is a device that rotates and carries objects in a circle.

An example of a carousel is a merry-go-round.
An example of a carousel is the moving conveyor for baggage in an airport.
---
carousel
a merry-go-round
something that revolves like a merry-go-round
a circular baggage conveyor in an airport from which passengers pick up their luggage
Origin of carousel
French
carrousel
from Italian dialect, dialectal (Naples)
carusiello,
tournament in which players threw reed lances or balls of chalk at opponents, origin, originally literally , chalk ball from
caruso,
shaved head; form influenced, influence by Italian
carrozza,
stately carriage, probably from
carro
from Classical Latin
carrum:
see car
[
C-
]
trademark for
a revolving tray from which slides are fed one at a time into a projector
---
carousel
or car·rou·sel
noun
A merry-go-round, as one at an amusement park.
A circular conveyor on which objects are displayed or rotated: a baggage carousel in an airport.
A tournament in which knights or horsemen engaged in various exercises and races.
Origin of carousel
French
carrousel
tilting match, carousel
from
Italian
carosello
tilting match
---
carousel

Noun
(plural carousels)
a continuously revolving device for item delivery

After collecting his suitcase at the baggage carousel, he left the airport.

the rotating glass plate in a microwave oven
---